WRITING TIP
Summer energizes me to come out of winter hibernation and take on a project. Maybe it can do the same for you and your writing project.
All set for a summer project
You may be asking yourself:
Is it too late? Can I do it?
Here are the answers:
No. Yes.
No, it is not too late. Yes, you can do it. And, I have the proof.
Here are memoirs by two women who were members of my life story writing group. I am taking no credit for the completion of their books -- just making the point that these are women I know, women you could know or be.
Both women were in their eighties when they finished and self published their books. The books might eventually reach a wide readership, but they were written to inform and inspire family and friends.
Both are available as print copies but are more easily available as e-books.
The authors had help with the production including cover design, interior design, printing, and e-publication. But they didn't let the prospect of production daunt them. They did the work. They did the writing. Each woman told her story.
And I can tell you that Saturday I saw dramatic evidence of what a comfort and blessing a written life story can be to family and friends.
Saturday, May 31, 2014, the memorial service for Louise Redford, author of one of the two memoirs I am telling you about, was held. Portions of the book were read by several of her adult children who talked about their mother and how the book revealed deeper aspects of her true character of love, service, and quest for peace than even they had fully realized. And how they felt inspired in their own lives.
In the Arms of the River
This is a dramatic memoir of growing up as a Mennonite under Soviet oppression in the 1930s, of escaping to Germany during World War II, and ultimately finding refuge in Canada and the US. Louise Redford (nee' Unger) was born in 1928 in the Mennonite colony of Einlage, near Zaporozhye, Ukraine. Her people were among the first to farm its rich soils when they settled there in the 18th century, but German pacifists had no place in the Soviet Union. Her own father was arrested and sent to work in Siberia, and never returned. Her community was destroyed by the Purge and the War, and few now remember it. Yet what she recalls today is not the fear and chaos, but her close-knit family and friends, and the beautiful Dniepr River, their playground and their haven. It's a story of bright memories in the midst of dark chapters of modern history.
My Journey in Faith
Ruth Saucedo Campos is a retired, award-winning school teacher from Kansas City, Kansas. As one of three U.S.-born daughters of Mexican immigrants, she endured the Jim Crow era during the 1930s and 1940s and struggled to find her way in a greater society that did not care. Only after accepting her father's advice ("Put the Church first always!") did she begin her journey toward self-discovery—and recognize her mystical connection to God. Traveling to Lima, Peru as a Papal volunteer in 1960, she discovered her true place—in the classroom. As a missionary, she gave aid to the poorest of the poor and fell in love with teaching. Through the years she would travel to Mexico and Spain as well, growing to deeply appreciate her Hispanic roots and people of all cultures. Once back home, Ruth finished her education and accepted a job as a high school Spanish teacher in her childhood barrio. She taught for many years, earning numerous accolades for the exceptional ways she gave of herself. Outside the classroom she gave time and energy to local charities and independently led cultural exchange groups to Mexico. Upon her retirement from Sumner Academy, she was not quite finished teaching. She spent the next ten years doing the same as she had done when she first began—by teaching catechism classes in her local parish. In this remarkable and inspiring memoir, Ruth's undying faith and spirit come shining through for all to appreciate.
LAUNCHING PAD
This week study the blurbs above that describe each book. Rewrite one or both of the blurbs inserting your own information.
For example, I might copy the description of Louise Redford's book and write:
This is a dramatic memoir of growing up in southwest Oklahoma in the 1940s and 1950s and finding refuge in the loving compassion of a Southern Baptist church. Carol Newman (nee' Allison) was born in 1942. Her people were among the first to receive Land Grants when Indian Territory became the state of Oklahoma.
You get the idea. You could do the same thing with the description of Ruth Campos' book.
It is not cheating or copying or plagiarism. It is a way to get started thinking about the shape and form of the story you want to write. It is practice which may be discarded or may even find its way to the back of the book you write.
CHOCOLATE INKWELL
Today's recipe is from www.allrecipes.com, but it is a variation of a recipe I first heard about from my friend, Terri-Lynn, who frequently entertains her friends and family with her excellent cooking.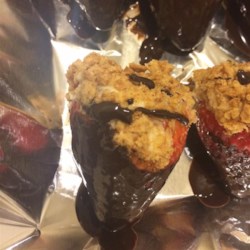 Photo courtesy of www.allrecipes.com
In this case the words are better than this picture
Chocolate Strawberry Cheesecake Bites
Directions (Note: read through the directions first and then figure out your own simpler method.)
Line a baking sheet with waxed paper.

Beat together the cream cheese, confectioners' sugar, and vanilla extract in a bowl until smooth.

Spoon the mixture into a piping bag fitted with a large round tip. (OR use a plastic sandwich bag with the top of one corner cut off.)

With a sharp paring knife, cut a cone shape out of the top of each strawberry to leave a small hollow. (OR simply cut an X in the top of the strawberry and smoosh your piping point into it.)

Pipe about 1 tablespoon of the cream cheese filling into each strawberry, making sure that the filling overflows a bit out of the top of the strawberry.

Place the graham cracker crumbs into a shallow bowl. Dip the filled side of the strawberry into the graham cracker crumbs, coating the exposed filling with crumbs.

Melt the chocolate and canola oil in a microwave-safe glass or ceramic bowl in 30-second intervals, stirring after each interval, until warm and smooth, 1 to 3 minutes (depending on your microwave).

Dip the unfilled ends of the strawberries into the melted chocolate and place on the prepared baking sheet; refrigerate until set.
For more memoir writing tips and answers to your memoir and life story writing questions, go to www.angelinyourinkwell.com
All rights reserved 2014 There's An Angel In Your Inkwell®